NeTV2
From Alphamax Media
(duplication is intentional, apparently this notice is too easy to miss)
NeTV2 Main Page
This page is a historical archive. Click here to go to the current NeTV2 wiki.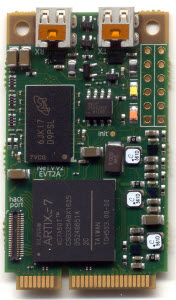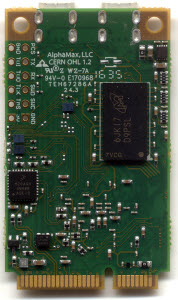 Hardware
NeTV2 is the 2nd-generation NeTV hardware device. Here are the key features of NeTV2 hardware:
Support for full 1080p60 video
More powerful Artix FPGA
FPGA "Hack port" for developers, breaking out 3x spare GTP transceiver pairs
512 MB of DDR3-800 @ 32-bit wide memory for frame buffering
mPCIE v2.0 (5Gbps x1) add-in card format
The add-in card format addresses a chief complaint of NeTV 1st generation: the anemic built-in CPU. Originally developed to render text-only graphics widgets with a strong emphasis on value, the original NeTV left users with demands ranging from 3D graphics to real time HD video playback out in the cold. Migrating to an add-in card form factor empowers users to select host systems that balances their unique priorities around budget vs. performance.
FPGA Firmware
The video processing capabilities of the NeTV2 are defined in part by the FPGA firmware, currently under development. The feature set currently includes:
Overlay of encrypted source video with chroma-keyed video generated by the host system, using a video-source-synchronous cipher state to encrypt host system video
Direct, unencrypted rendering of host system video to display device
We are also developing other highly requested features, such as alpha blending, rescaling, picture-by-picture, color transformations, and video recording. We are currently seeking legal clarity on whether we can share these features. If you have a feature request or would like to upvote a planned feature, please leave us your thoughts on the NeTV forum.
Host Firmware
Basic utilities
Here are some basic utilities to talk to the add-in card and configure it.
PCI tools for manipulating FPGA memory space from the host.
Km tool for managing and deriving keys.
KMS driver for creating a virtual frame buffer for the NeTV2. Note that DRM stands for "Direct Rendering Manager" in this context.
Other host firmware, such as browser infrastructure, are forthcoming.
Source Links
FAQs
FAQ for NeTV2
Q: Will NeTV2 support 3D or 4k video?
A: There is no plan for native 3D or 4k video support, although developers are invited to explore the GTP transceivers on the hack port as an option for providing limited higher-bandwidth format support.
Q: What systems will NeTV2 be compatible with?
A: We are targeting compatibility with any x86 Linux-based device. This includes PC motherboards that use a PCI-to-mPCIe adapter. Development and testing is happening on x86-based PC motherboards. As of October 2016, we note some compatibility problems with x86 laptop motherboard BIOSes due to adverse interactions with the power management code in the BIOS.
Support on embedded ARM will depend upon the PCI implementation details for a particular SoC. For example, the i.MX6 SoC's PCI memory aperture is hard-limited at 16MB, so with control BARs fragmenting the memory aperture, the SoC cannot accommodate a 1080p-sized double-buffer within a PCI device.
Q: When can we purchase NeTV2 boards?
A: No release date has been announced. The prototype hardware is currently operational under laboratory conditions, but we are still working through the validation matrix to make sure there are no corner cases that we're missing. There is also a significant amount of firmware and supporting documentation to be developed before it can be released as a general availability product.
We plan to share early access hardware to qualified developers within the next few months, especially to developers who can contribute to the host firmware and documentation effort.
Q: Is there any plan to support M.2 NGFF?
A: Currently, we have no plan to make an M.2 NGFF version, as it would drive up the product cost. However, please do let us know if you have an application that is enabled by this form factor that can also absorb about a dozen extra dollars to pay for the additional routing layers required for the narrower form factor (likely M.2 B/M key in a 2280 footprint).
Q: What's the pricing for NeTV2?
A: Pricing has not been finalized, but the upgrade to 1080p60 video support on NeTV2 from 720p-only on the original NeTV requires a substantially more expensive FPGA. We currently envision the single-unit retail pricing for the add-in card only (no host system) to be around $200-$250.
FAQ for users of NeTV 1st-generation devices
Q: Will NeTV 1st gen continue production?
A: NeTV 1st gen production has ceased in anticipation of the 2nd gen release. Last time buy offers were issued to partners earlier this year when news about NeTV2 first broke, and the final production run has been scheduled. Based on current demand, we anticipate our distribution partner Adafruit should have stock of 1st generation units until the end of 2016.
Q: Will NeTV2 be backward-compatible with NeTV 1st gen?
A: In short, no. We will provide a similar http-based API to NeTV 1st gen, but we can not support the chumby-specific API calls, and we will also be revisiting a set of API calls that had insecure implementations (such as NeCommand).
However, web pages for NeTV developed to work with the chroma key overlay scheme should just drop in to NeTV2 and "just work", assuming you've configured the Linux image on the host machine to include a modern web browser package.
Q: Will NeTV2 be bundled with a host CPU?
A: Our initial offering will be just the NeTV2 expansion card, but system bundles may become an option depending upon market demand.